Looking for some of the best websites like Zillow? Then you are in the right place. The real estate market is booming rapidly and people are preferring more on the internet than the old traditional methods to find genuine home buyers or sellers. There are many websites like Zillow that are providing similar services.
According to a survey by the National Association of Realtors in 2018, 50% of buyers found their homes on the internet, 28% found through their real estate agent, 7% found their home through a yard sign or open house sign, 7% got a recommendation from their friends, relatives or neighbor. From this one thing is concluded if you want to sell or search for a new property, then you need to be on the internet with the right real estate websites.
If you are tired of using Zillow and looking for new real estate websites to list your property or to find a new one, you will get a number of good real estate websites on the internet. But which one to choose? After all, buying or selling a home is a big deal. That's why we are here with the 15 best alternatives to Zillow which provides more accurate real estate value than Zillow.
15 Zillow Alternatives
The websites here we are going to list provides more compressive and detailed information about the real estate market. As a buyer, you can see details from pricing to all available facilities of every listed property on these websites. Some of the websites also allow their users to take a virtual or 3D tour of the listed properties to see how it looks like where you are planning to live.
Whether you are a buyer or seller without wasting any further time navigate to these websites and reach your real estate goal in just a few clicks.
Redfin is a popular real estate company, that helps users to sell and buy homes in an innovative way. It also has its own agents, so you don't need to search for a representative to list your home on this site.
The user interface of this site is very much similar to Zillow and sometimes offers a more accurate home value than Zillow's algorithm. It also offers a discount commission for the users who list their site with Redfin's agents.

When a user searches for available properties, it shows a map-based overview of the homes which are listed for sale or rent. It also displays housing data, like the year built, home value, square footage, home appreciation, and some other information that a buyer would want to know before making his commitment.
On this site, you can also perform side-by-side comparisons between the homes that you are interested in so that you can find the suitable one. This site is one of the most advanced real estate sites that you find on the internet, where it offers 3D walkthroughs of the listed homes.
You can also book a tour of the selected homes with an agent on your preferred date and time and explore each home closely. Redfin also promotes customer transparency, where the company surveys every customer experience with Redfin and their agents and shows all the ratings on the agent profiles.
Redfin integrates with Multiple Listing Sites (MLS) and all the data on this site comes from MLS. When a home is listed on MLS, it appears within 15 minutes on Redfin.
NeighborhoodScout provides comprehensive real estate data of the United States. So, if you want to buy or sell a place in any part of the United States you can just navigate to this site.
If you want information on any part of the United States, just enter the particular city or address. Then NeighborhoodScout provides brimful data about that neighborhood such as housing cost, size, and style of homes, the density of buildings, rental areas vs owner-occupied, local school information, languages spoken, demographic data, economic trends, crime rates, and many more.
It provides so much information that helps investors to make their decisions spontaneously whether they should invest or not in a particular neighborhood.
This site provides most of the information for free but if you want some additional details you have to take the subscription plan of $39.99 per month.
HomeSnap is one of the sites like Zillow which provides map-based search functions and a huge amount of property information.
Apart from the website, it also has an app that has a very user-friendly interface. With the app when you take a real-time picture of a house for sale, it will provide all the necessary information related to the property.
Even if homes, apartments, and condos are unlisted, the app collects information about it and provides value to them.  If you are interested in buying or selling properties, then the app will connect you with top-rated agents who will then guide you to the destination.
The App has a message and sharing features that you can use to share the property information with other family members.
HomeSnap fetches data from Multiple Listing Service (MLS) and gives you quick updates when a property is listed on it. You can also create custom feeds and turn on notifications in the App so that you never missed any update on the property you are interested in.
LoopNet is one of the popular commercial real estate marketplaces with over 7 million registered members and 5 million unique monthly visitors. This is among the best real estate websites in the USA.
This site is an exclusive place for property investors, it helps them to find commercial properties for sale or lease. It includes all types of commercial properties like office, industrial, retail, business, land, and multifamily.

The site hosts more than 800,000 commercial listings and has over 25 million property records. It allows sellers to advertise their property with a different listing aspects like Diamond, Platinum, Gold, and premium.
On LoopNet, while a buyer is searching for available property for sale, he/she can draw a radius or freehand circle for a more specific geographical location.
Hotpads is a popular map-based housing marketplace that allows users to search for the best apartment. One of the biggest advantages of the map feature is that you would get all the houses available in an area.
The easy navigation feature allows you to browse apartments and houses easily. This website was introduced in November 2005 and now contains millions of users around the world.
All the listing comes with clear photos, descriptions, and nearby information. You can see a verified listing tag that ensures quality and trustworthiness. You can also contact the seller and schedule a viewing.
Apartment.com is one of the useful sites that connects rental seekers to property owners. It listed homes, apartments, condos, and townhomes for rent. If you are searching for sites similar to Zillow then Apartments.com is the best.
The website provides a good array of filters from pricing to apartment type, which a user can use to find his/her preferred house.

It represents a map view of the available apartments and houses for rent. You can also use the search bar to find rental spaces in a specific area.
There is a search feature called "Polygon Tool" which allows users to draw out their own search borders on the map. So, that they can see the available flats in their ideal location.
Users can also apply the search filter "Plan My commute" which lets them choose how long they want to commute between two specific points. It also let them choose a different mode of transportation, travel time, and time of the day.
Apartment.com also provides customize searches, community reviews, and video or a 3D tour of the listings. So, that renters can make an assumption about the residential properties. You need to go through home buying recommendations before searching for any real estate asset. 
Realtor.com is the official website of the National Association of Realtors and provides all the information that you would like to accept a real estate site.
If you are searching for a home for rent, this is the right place to begin your search. This website collects information from Multiple Listing Services (MLS), which means you will get quick updates on listings.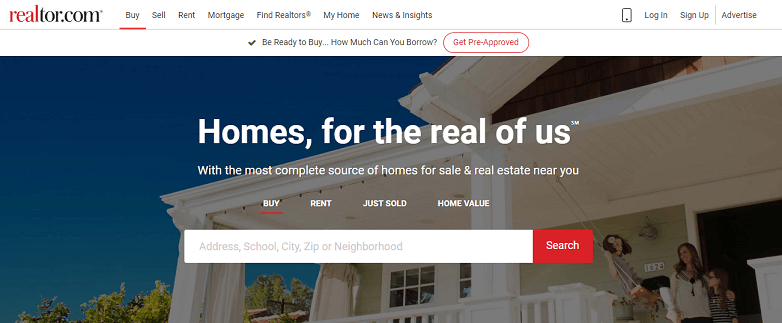 On Realto.com you can also search through other websites like Redfin, NeighborhoodScout, and HomeSnap, and then you can contact a local agent.
The home page of the website shows a detailed overview of the local housing market, school rating, price, currently available homes, rentals, and top-rated local agents. The website also provides new blogs in which they describe the housing market, how to make your home attractive to buyers, and also buying and selling guides.
Rentberry is an awesome platform for renting and buying homes. The first thing you would notice after landing on the website is the user interface. They have crafted the website with eye-catching colors and graphics.
If you have a house and want to sell/rent it, then Rentberry is also the best website for you. Add your property in seconds with unlimited photos, description, monthly price, security deposits, and a list of amenities. It's easy and secure.
If you are a tenant then find your dream home using the smart search feature. Discover thousands of apartments and homes for rent in 50+ countries.
Rent.com is one of the real estate sites like Zillow where you can get all types of residential rental listings. In the "Moving Center" Section of this website, you can get a free moving quote just by listing your house size, its location, and where you are moving to.

If you want more detailed information about the listed property, Rent.com offers HD photos and a virtual tour of that property. So, you get a better idea of whether that home will be suitable for you or not.
You can also watch ratings the apartment got on areas like location, maintenance, landscaping, office staff, and parking lot. The apartment listing results show floor plans, a number of available rooms, and leasing terms. This website has solid selection features, that help users to choose the type of home they are looking for.
RealtyTrac is one of the best real estate websites that index detailed information on foreclosure and bank-owned homes. It also provides data on the latest changes in the real estate market, house auctions, neighborhood data, etc. for buyers and investors.
The website has over 140 million listings and for each listing, it provides a complete overview which turns out to be informative for people who are looking to purchase or bargain.
The demographics it provides for each property include information about schools, crime rates, unemployment data, environmental reports, surrounding lifestyle, and more.
If you are interested in a bank-owned, distressed market, auctions, foreclosures, and pre-foreclosure properties then you'll probably get the best deals on this marketplace. This is one of the best websites to encourage people to switch from Zillow to this. If you have been searching for ready-to-live homes then RealtyTrac can be one of the best options.
Compass uses the latest technology to provide information about the real estate market and properties for sale. The company says its mission is to help everyone to find their dream home in their selected location.
However, it currently provides its service in 20 selected cities across 16 states of the US. The website has an appealing interface that helps buyers and agents to get the required information easily. It also has mobile apps that are very intuitive to use.
When you visit the website and started looking for property in a specific area, you'll get immediate access to 12,000+ agents operating from Seattle to Miami and from Boston to San Diego.
Re/MAX operates in more than 100 countries with a network of over 100,000 agents which makes it a suitable real estate website similar to Zillow. It lists properties from low prices to luxury homes and allows buyers to search as per their requirements.
It provides the demographics of every listed property which includes information on nearby schools, crime rate, unemployment rate, earthquake reports, economy details, and more.
All the listings on RE/MAX are managed by the agents, so the homeowners can search for nearby agents and find their relevant match by selecting specific languages and 24 specialties, including historic properties and farmland.
Movoto is one of the largest real estate marketplaces in the US. It was started in 2005 with the idea that "real estate should be easy" and it is working as such. You can information about new properties or check the value of your current home within a few minutes.
It provides a side-by-side comparison of properties with statistics like construction data, price, images, and more. It also gives information on distance from groceries, schools, parks, gas stations, bars, etc. to make the selection easier.
Zoopla is a popular property website in the UK. It focuses on listing quality properties and apartments for rent. Use the search feature to find your desired property. Whether you are buying or selling a home it offers the best real estate experience.
You can also use various filters to fine-tune the search. The street view shows the 360-degree picture in HD format. The website was launched in 2008 and is now one of the fastest-growing property platforms in the UK.
Each property listing comes with in-depth information and contact information. Scroll down a bit on each listing and you would get more descriptions. If you want to have an expert valuation then book an agent valuation. You can also list your property on Zoopla and attract customers.
Century 21 is one of the sites like Zillow having over 7000 independently operated brokerage offices across 70 plus countries. It lists properties for sale, lease, offices, etc. The website has a sleek design that enables users to get the required information easily.
For each of its listings, you'll get weather reports, nearby schools rating, economic statistics, unemployment rates, and more. All the valuable information on community features and demographics helps buyers make the decision more effectively.
Conclusion
Selling or buying a home is one of the biggest financial decisions you'll ever make, so you need to be informative about the current real estate market. These are some of the best real estates sites like Zillow where you can find potential buyers and sellers.