Looking for the best dating sites in Russia to meet beautiful Russian singles? Then you are in the right place.
When it comes to dating, meeting people at a random bar, or any other place is not so easy anymore in Russia. In fact, it is quite hard to find like-minded people, except on dating sites in Russia. On these dating sites, you can browse thousands of profiles, chat with the people you like or prefer and then decide if you want to meet them or not.
Any Russian dating site can provide you a chance at finding the love of your life. These dating websites have their own algorithm and they work differently. While some dating sites are available for free, there are some dating websites where you need to pay for their services.
Best Russian Dating Site
When it comes to dating in Russia, any Russian dating site is quite helpful as it leads you to tons of profiles of single people where you can find several singles who are looking for similar things in a relationship.
This basically means that looking for someone offline would take extra energy out of you rather than looking for someone online. Now let's have a look at some of the top dating websites in Russia.
Powered by Cupid Media, Russian Cupid is full of attractive Russian men and women. Known to be one of the best dating sites in Russia, it is also one of the most legitimate dating websites online. Russian Cupid allows you to create a profile for free. You can also opt for a premium membership to go for a detailed choice of person that you want to date.
Meet and chat with sincere and beautiful Russian singles anytime and anywhere you want. Browse thousands of verified profiles and connect people with Russian singles from Moscow, Novosibirsk, Ekaterinburg, Saint Petersburg, Kazan, and many others.
Apart from that, the premium membership will let you initiate and exchange messages with the person you like on the dating site. Along with the website, the Russian Cupid is also an app that can be download on your smartphone. This is how you take charge of your love life.
Made for people who speak Russian, Mamba is one of the top Russian dating sites that has over 23 million users. It is known to have a user-friendly interface that doesn't confuse the users. When it comes to signing up for a dating site, it is quite simple.
You either sign up with your email ID or use one of your social media accounts like Facebook or Instagram to sign up. When it comes to finding matches for yourself, it is not as tough as algebra. It offers a lot of filters in order to find the right match for yourself.
Once you have filtered everything you are provided with certain categories which have subcategories.
Elena's Models is another dating website in Russia through which Eastern men can meet some of the most beautiful and attractive Russian women. Dating Russian women has been easier through this website.
The best part about this dating site in Russia is that it enables you to directly contact the woman you like if she wants to share her contact details with you. Browse thousands of profiles all over Russia and filter members using the advance search.
Once you sign up, you can browse through all profiles as well as send 20 'expressions of interest to those whom you like. Apart from that, you can also check out the 10 last women who viewed your profile for free.
Another great part about this dating website is that you can download Elena's Models app on your smartphone. It can be used to take care of your love life.
Love Planet is one of the free Russian dating sites that can be used to find your partner. A dating site with thousands of users joining every month was founded in 2005. Any time you open it, you will find at least 50,000 users online.
While most of the users are from Russia, some are also from Ukraine and Belorussia. The best part about it that you can browse the profiles even without registering. However, signing up for the dating website is a piece of cake
It only requires your email ID, password, name, gender, birthday, location, and what are you looking for. You can upload your photos and confirm a verification mail and that's it.
Teamo is one of the dating sites in Russia made for women who want to find a long-term relationship or a partner for marriage. Signing up for this dating website takes a long time as you need to give a lengthy personality test. This test is designed to reveal 17 different characteristics.
This test includes basic questions such as occupation, religion, level of education as well as unique questions which conclude your personality. Apart from that, you can download the Teamo app on your smartphone to handle your love life.
Teamo is a popular Russian dating app for women searching for a long-term relationship. Although a little similar to Tinder, Teamo is not completely free and a premium membership is required to access its all features.
This Russian dating free website has over 2.7 million users and was founded way back in the year of 1999. The best thing about this dating site is it completely free to use and the sign-up process is also pretty easy.
There is no need to give a personality test. You can sign-up within a few minutes and start browsing profiles. However, this free Russian dating site has no English support. Thousands of verified Russian singles are online and waiting for your text.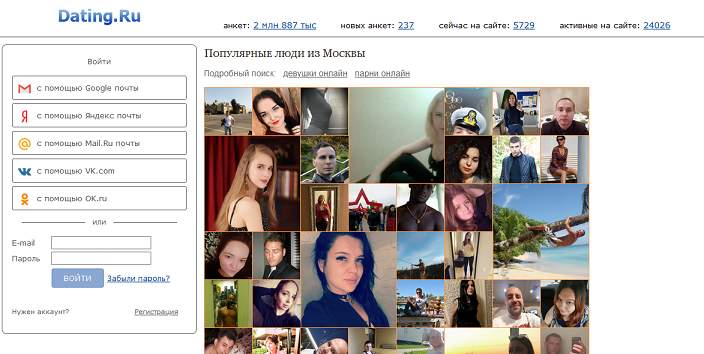 It is one of those Russian dating sites where all the communication features are available for free, even video chatting. Once you complete the sign-up process you can start browsing the potential matches for yourself.
It also has an app that you can download on your smartphone and handle your dating life from there.
Travel Girls is one of the most trusted online dating sites in Russia. If you are interested in European singles or Russian dating, then you can find some perfect match here.
If you are planning to travel to Russia, Travel Girls is one of the best dating sites for dating Russian women. Not exactly a dating site, it has links, attractive women, from all over the globe to the guys who are traveling to Russia as a tour guide. Apart from that, it is full of beautiful Russian women.
This is a dating site where you can look for a fling rather than a long-term relationship. While the free members can browse through the profiles, they can't send or read the messages. For that, you need to take the premium membership.  You can easily sign-up through your Facebook account as well.
Launched in 2006, Badoo is one of the dating sites Russian used a lot. You can even find your life partner at this site. It is operating in over 180 countries and free to sign up, however, it not a free dating site.
As it is not one of the free Russian dating sites, you need to pay for the upgraded features. However, as it is spread over many countries if you travel a lot. This site is a plus to find new profiles as you travel. Search for perfect matches from their database made up of millions of Russian singles.
Another great part about the Badoo website is it has an app. You can download the Badoo app on your smartphone to handle your dating life.
Tinder is a highly popular dating site all over the world and also for dating Russian as well. It is very easy to sign up at the website and all you have to do is browse the profiles and like the ones you like. If the other person likes you back, then both of you can start chatting on the dating site and take things forward.
You can create a new account on Tinder and begin sharing your true love story in a matter of minutes. Whether you like Russian blondes or have a preference for brunette singles from Russia, you can easily crawl through thousands of profiles to find the perfect lady for you.
While some look for a long-term relationship, some are only looking for a casual fling. It depends on you and your needs in your love life. Apart from that, Tinder has an app as well, so you can download it on your smartphone and carry on your love life on Tinder.
Looking for beautiful single Russian women for relationship, marriage, love, and romance? Then eDarling is a free Russian dating site of your choice. It brings a safe and easy-to-use environment designed to help users meet the love of your life.
eDarling is another serious dating website that includes a personality test before you sign up for the dating site. Although it has the Russian dating free concept, free users get just a few features on this dating website. Free users are only able to send smiles and likes and can see only limited matches.
Taking the premium subscription is a better option as it provides you a lot more features. Apart from that eDarling has an app as well which you can download on your smartphone and take care of your love life.
Conclusion
When it comes to the best dating sites in Russia, the above-given websites are some of the most used and convenient options to go for. These dating websites have apps as well which help you reach singles on the go in Russia. Apart from that, they are legitimate as well as have the most sophisticated users that you reach out to and date.